Enough of this lion/lamb stuff - we SO can't wait till the retreat! It's going to be so much fun (and
warm
!) Lots of quilting opportunities (or bring your own projects), lots of fun door prizes, a Secret Sis swap, great fellowship, and hours and hours of dedicated sewing time. Not only will we have our monthly Mystery quilt, but we will do a Two-Hour Tulip Bag, the new Twister Table Runner or quilt, and adorable "Pot Pinchers." There will be a masseuse available for chair massages and a 20% off sale, including kits and patterns for all of the projects that will be previewed during the retreat, plus a scavenger hunt back at AIS. When's the last time you saw quality fat quarters for $1.50? Be sure and check out these while you are there, too. Is it too late to join us? Good question! Be sure to call the shop for the answer.
What do you bring to a quilt retreat? Besides your fabric for your project, of course. One of our customers, Karen Lane, wrote up a list of items, most of which she transports in a 5-gallon bucket - hence, Karen Lane's Bucket List. (Don't forget to label all items!!!!!)
Sewing machine, cord, pedal, attachments, and bed extension
Extension cord/surge protector
Light (Ott Light)
Everything needed for project (fabric, thread, [do you have all the right colors?] etc.)
Extra bobbins
Seam Ripper
Pen/Pencil/Sharpener
Scissors (1 for fabric only, 1 for paper, etc)
Straight pins/Safety pins
Machine needles
Hand sewing needles
Name tag
Snippers for cutting thread at machine
Mini-iron, mat, and cord
Lip Balm
Hand lotion
Tissues
Calculator
Bit of scrap paper
Small stickers for labeling
Lint brush, machine oil, small screwdriver
Trash bags (like a couple grocery bags)
Ziplock bags to hold your various size squares, strips
Tylenol
Band-aids
Chocolate
Diet Coke
Water Bottle
Thermos cup for coffee
Not everyone needs to bring - iron, water, and ironing board, rotary cutting board, rotary cutter, rotary ruler (small and long)
TIP: Use same color ribbon to label your stuff and keep a list of what's IN your bucket so if you take stuff out, you can replenish before your next retreat.
Newest Books . . . . .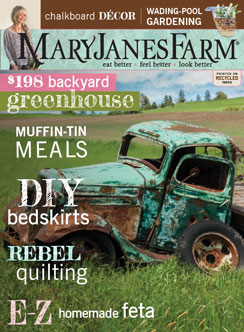 Ever since I moved to my Idaho farm 20 years ago, I've played around with recipes for organic fast food. While feeding my family and farm crew and perfecting a solution for the dilemma of what-to-cook, I dreamed up my MaryJanesFarm magazine. I wanted a women's magazine where we can share solutions and show off our talents and really just a place where we can talk.
Here's what Deborah Needleman, former Editor of House & Garden magazine and current Editor-in-Chief of Domino magazine, had to say:
"MaryJanesFarm is charming and well done—hugely appealing. It is homey, and smart and interesting ... part Martha Stewart Living, part Oprah magazine, part Organic Style, part Nation, part Ladies Home Journal ... full of tips, ideas, and information."
So, come with me to a place where the food is wholesome, delicious and organic… where the crafts rekindle the joy of handwork… where simple pleasures enrich families and embrace friends.
Come to a place you'll call home…
MaryJane Butters
Farmgirl is a condition of the heart.
Thimbleberries Books Easy Living Quilts Book
- Easy to make quilts for your busy lifestyle. Basic block patterns, with many options, and lush fabrics create quilts that can be made quickly. Change your bed's decor with the changing seasons or whenever the mood strikes you. 8 projects that include quilts, shams, and even a table runner. One of the projects is for a tone-on-tone "all occasion" quilt that can be dressed up with the other colorful projects. General quilting instructions included. 48 pages in a soft cover.
Have a great weekend! Mary